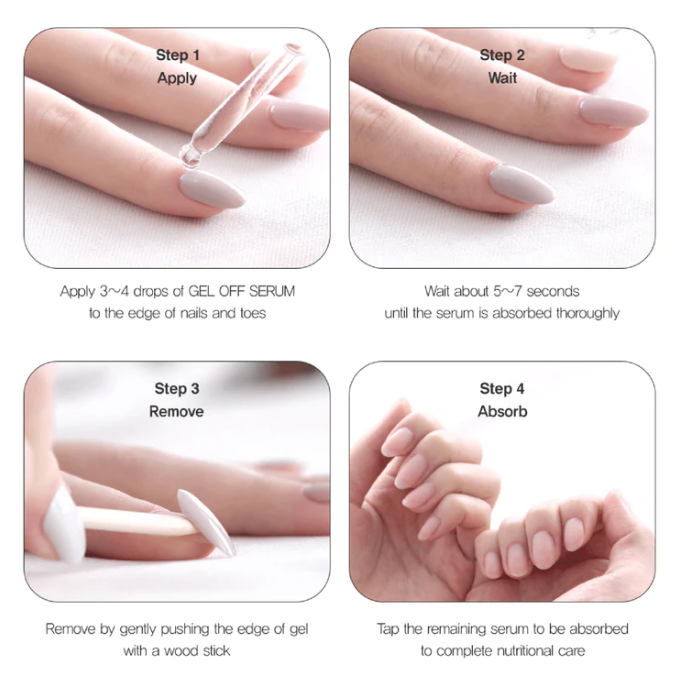 For easy removal apply 3-4 drops of remover serum to the gel to minimize nail damage and switch out your old nails for new ones.
Features
Contains 3 plant-derived ingredients including Chamaecyparis Obtusa Leaf extract and Phytonkera* blended with biot, from clean and mild soak-off of a professional nail salon to nutritional care all in one! *Phytonkera is a combination of Chamaecyparis Obtusa Leaf Ectract, Eucalyptus Globulus Leaf Extract, Mentha Arvensis Extract and Biotin.

Minimize Acetone. FREE 4 harmful ingredients, More mild soak-off! It doesn't contain acetone and excludes 4 harmful ingredients to keep your nails healthy even soak-off *Free of mineral oil, PEG, artificial color and 4 harmful ingredients.

Water serum that absorbs quickly. Full-care in 10 seconds. The light water serum is quickly absorbed, so after application, sticker removal after 5-7 seconds, and nutrition care are completed in 10 seconds.
How To Use
Apply 3-4 drops to the edge of nails and toes.

Wait about 5-7 seconds until the serum is absorbed thoroughly.

Remove by gently pushing the edge of gel with a wooden stick.

Tap the remaining serum to be absorbed to complete the nutritional care.
Precautions
Red spots and swelling on the area due to direct sunlight when using cosmetics or after use Or, if you have any abnormal symptoms or side effects such as itching, consult a specialist.

Do not use on wounded areas

Keep out of reach of children.

Store away from direct sunlight.